Clearance – Jotul C 350 Winterport
Designed specifically for smaller masonry fireplaces, the Vesta Design and Technology Award-winning Jøtul C 350 Winterport is our latest innovation in wood insert technology. We use the Jøtul Simplex™ clean burn combustion technology to optimize fuel load and heating efficiency. Named after the coastal Maine town of Winterport and featuring one of the largest fire viewing areas of any comparably sized wood burning insert, the Jøtul C 350 Winterport is sure to bring some Maine charm into your home. To maximize efficiency, we have included two variable speed heat activated blower fans.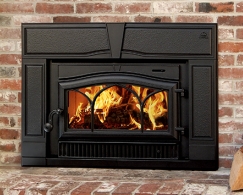 Standard twin blower fans (110 cfm)
Jøtul Simplex™ non-catalytic clean burn system puts more heat into the room without sacrificing fuel load capacity
One conveniently located air control lever easily operates the entire stove.
Retro-fittable to most factory built woodburning fireplaces.
Proven spring-loaded door latch ­system recognized as the industry's finest.
Clean face look with Jøtul's signature Gothic arch. SLO County approved.
It can be yours at 30% off, just call 805-544-4700. One available at this price.