Clearance – Valor President Gas Stove
The President Freestanding Stove is perfect for upgrading traditional spaces. Projecting a mere 13 inches into the room, the President leaves plenty of space for additional home styling and decor. Capable of both top and rear vent applications, the President shows great freestanding as well as tight against an exterior wall. Solid cast iron encases a proven Valor Portrait engine, assured to provide warmth and comfort for many years to come.
This unit is a freestanding stove, However it is approved to be installed as a gas insert in a wood burning fireplace.
This is a showroom demo unit available at 20% off, includes remote and safety screen. Optional blower, wall control are available.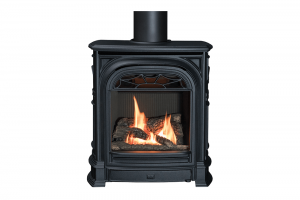 It can be yours at 20% off, just call 805-544-4700.