Clearance: Loft Direct-Vent Insert
Awaken your inner artist with a Loft Series Contemporary Direct-Vent Insert – in small (20,000 Btu) With Intermittent Pilot.  The black porcelain lining inside the Loft insert reflects the mesmerizing flame from the contemporary linear burner to create depth and visual interest from any angle. Black surround measures 40″ x 22.25″.  Includes blower, remote available. Minimum fireplace dimensions (inside) 20″ tall x 28″ wide.
This unit is a gas insert intended to be installed inside of a wood burning fireplace.
One unit available at this price, it can be yours at 40% off, just call 805-544-4700.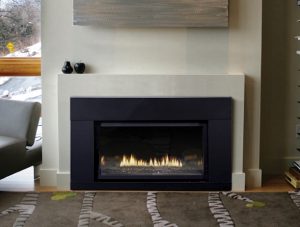 A Direct-Vent Fireplace Insert turns your existing wood-burning fireplace into an efficient gas-fired heat source.  Direct-Vent Fireplace Inserts are classified as zone heating appliances. Zone heating is inherently more efficient than your existing wood-burning fireplace or your central furnace.