About Pacific Energy Company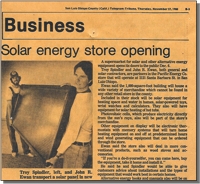 Pacific Energy Company was founded in 1980 to provide an energy choice for rural and urban central coast residents. Recognizing the need for a complete retail resource of solar electric equipment, efficient wood stoves and fireplaces along with expert installation service, John Ewan & Troy Spindler opened the doors to San Luis Obispo County's first renewable energy store.
While installing solar hot water systems in the early 80's, the company's first solar electric deep well water pumping system was installed in the Creston area of San Luis Obispo County, California. While that system was cobbled together from the shelves of suppliers across the country, today's mature industry offers complete engineered systems from major national and international manufacturers. Pacific Energy Company provides solar electric equipment from the finest manufacturers in the US and the world, specializing in products made in America. Our depth of experience in both the design and installation of solar electric systems for independent (off grid) living, water pumping & recreating is unmatched in San Luis Obispo County and makes PEC the choice for quality and reliability.
Our Hearth Products include Wood, Gas, Electric and Biofuel Fireplaces, Stoves and Inserts. Modern Wood burning products meet the current EPA standards and emit less than 2.5 grams per hour. Many of our wood burning products meet or exceed 75% efficiency. Gas fireplaces and stoves have been designed to efficiently heat with thermostats and some with programmability. All gas fireplaces feature battery back-up so you can still have heat in a power outage. Electric and Biofuel fireplaces round out our hearth products and are becoming more popular especially when coupled with our solar electric products. Pacific Energy Company has been a leader in the introduction and promotion of new products, working with industry and regulators to ensure San Luis Obispo County's skies stay clean and clear. Our showroom displays and specializes in the latest clean and efficient technology, providing the finest in beauty and function.
Located at the same address since opening day, PEC has expanded into one of the largest showrooms in San Luis Obispo County of solar electric equipment, fuel efficient gas, clean burning wood, electric and biofuel fireplaces, inserts and stoves. Our offices are powered by a Grid-Tie Solar Electric system (since 1999); all office & packaging waste is separated and recycled; office equipment and appliances are Energy Star compliant; and local non-profits are supported by our Solar Trailer (MPU) powering bands at fund raising events.
The PEC staff and partner contractors are long term team members, demonstrating their commitment to PEC goals and business practices and Pacific Energy Company's commitment to, and personal support of, them.
Today Joe Ryan, President and Susan Flewelling, Manager staff Pacific Energy Company along with the finest installing contractors of Hearth and Solar products anywhere. We continue the tradition of providing expert advice and the finest Hearth and Solar products available to the residents and businesses of our beautiful central coast.
Visit Pacific Energy Company today – because experience matters!