Design Notebook: How to keep the home fires burning efficiently, beautifully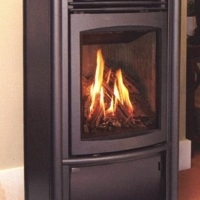 Rebecca Juretic is a contributing writer for Home.
Fall may still bring on a heat wave or two, but it those in the know are already thinking about fireplaces.
Fireplace companies are heading into their busiest season. So, according to John Ewan, owner of San Luis Obispo's Pacific Energy Co., if you'd like to cozy up to a revamped hearth over the holidays, now is the time to get the ball rolling.
"Typically, the lead time is about three weeks out, but this time of year as winter approaches we'll hit six weeks," he said.
If a wood-burning fireplace or stove is on your wish list, the lead time could be even greater. "The change in the price of heating oil causes the East Coast to purchase more product, and that can leave us in California short on product," said Ewan, adding that a rise in the cost of propane has prompted many locals to make the switch to wood.
Energy-efficiency isn't the only reason to rethink your fireplace, according to Ewan. "The hearth is the focal point of the room," he said. "A full replacement of the existing firebox can give you higher efficiency and a brand new look that's more in line with the times."
If the bad 1970s tile on your hearth is seriously cramping your style, popping in a new insert won't do the trick. Lately, Pacific Energy has been performing more complete fire- place remodels than ever, which involves replacing both the firebox and surround. Pacific Energy works with suppliers of several different types of fireplace surrounds including Old World-style cast concrete, tile, brick and stone.
Contemporary fireplace designs are seeing a surge in popularity, according to Ewan. The look involves gas units with a larger-than-average viewing area, clean lines, lighter metals like nickel and minimal air vents.
If homeowners opt for any surround at all, they will go with sleek granite or glass mosaic tile. Instead of traditional log sets, burners are often topped with an artfully arranged pile of river rocks, a bed of shimmering glass chunks, or simple, sculptural orbs.
Fireplaces are only half of the story at Pacific Energy. The company also installs solar systems and is one of the few local companies that handle off-grid systems.
Why the combination of fireplaces and solar? Both can ease our carbon footprint, said Ewan. Both solar power and wood-burning fireplaces can reduce energy consumption. Even gas fireplaces are more efficient than central heating systems that heat the entire house. Pacific Energy has been in the business of energy conservation since 1980, but with today's heightened environmental awareness, their message couldn't be more timely.
FIREPLACE TIPS FROM PACIFIC ENERGY CO.
FIRE UP A STOVE 
One of the easiest ways to add the warmth and ambience of a fireplace is with a freestanding stove. Installation is simpler and less costly than installing a built-in fireplace. These days, they come in range of styles, from traditional to 
contemporary. However, unlike a wall unit, a freestanding stove will take up floor space.
PICTURE IT 

For an ultra-contemporary look, check out the latest gas units that are mounted on the wall and resemble a piece of framed art. The approximately 2-by-3-foot unit emits heat, is usually simple to install, and takes up very little space compared to a freestanding stove.
BIGGER ISN'T ALWAYS BETTER 

Resist the temptation to buy the largest fireplace in the store. Instead, check to make sure the unit is appropriate for the size of your house and room. A wood-burning stove that is too large for your space won't allow you to build a strong fire without overheating your house. When buying a gas unit, opt for a unit that has adjustable heat output.
Pacific Energy Co. is at 2121 Santa Barbara Ave. in San Luis Obispo, phone 544-4700 or visit www.alteryourenergy.com.