Wood Fireplaces
For the love of wood burning….It's still OK to burn wood in SLO County with a clean burning, energy efficient,  EPA approved or equivalent fireplace. So why resist the warm glow and the snap-crackle-pop of a real wood burning fireplace when you can have a  BIS, Astria or RSF, real wood burning fireplaces from Pacific Energy Company.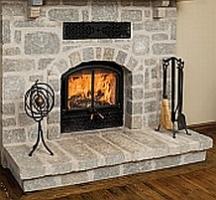 RSF Wood Burning Fireplaces
RSF is the industry leading manufacturer of highly efficient, clean burning, and attractive fireplaces. They differ from the competition – using gravity fed outside air, small diameter pipe (9 or 10 inch outside diameters with 2 inch clearances so chases can be small) and high tech combustion systems. RSF units have options for screens, blowers, in-line fans for remote room heating, clean faces to eliminate the louvers, black, gold and pewter louvers, doors and trim, gravity vents to heat other spaces, and whole house heating blowers to connect to your existing house heating ducts.
The Oracle see-thru wood burning fireplace is SLO County APCD approved, RSF is a full line, clean burning wood fireplace manufacturer for San Luis Obispo County.  From the small, clean faced Chameleon to the large bay front Delta, RSF has the variety of fireplace sizes and looks to meet all your decorating and heating needs.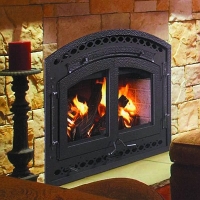 Astria Wood Burning Fireplaces
Stay awhile…a warm welcome is only the beginning. There is nothing quite like the look and feel of a wood burning fireplace. Astria wood burning fireplaces match expert craftsmanship with elegant styling to welcome you to sit, and stay awhile.