Gas Flue Pipe
Complete your gas stove or fireplace installation with safe professional grade venting products from Pacific Energy Company.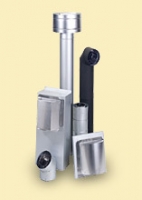 ICC EXCEL Direct Vent Gas Chimney
EXCELDirect® has the industry's first flared casing design for simple push together assembly. Pushing two pieces together completely seals the joint and three self tapping screws solidify the assembly. The pipe features a laser welded inner flue made of stainless steel. Stainless steel is very resistant to corrosion and sturdy enough to remain round under distress. This ensures that when two lengths are assembled they are completely sealed, unlike aluminum which can easily get out of round and will then leak.
Thanks to the push together assembly of EXCELDirect® there are no unsightly tabs or markings on the exterior. When a system is assembled, it is smooth by design and very aesthetically pleasing.
EXCELDirect® is certified to UL 2112 by INTERTEK testing services and Warnock Hersey.
Simpson Duravent Pro Pipe
Stunning design and Engineered Excellence® utilizing state-of-the art manufacturing. Simpson Duravent DirectVent Pro features tight inner connections for superb performance, with no gaskets or sealants required (unless specified by the appliance manufacturer). All black pipe lengths, pipe extensions, and elbows feature laser-welded outer wall seams for a sleek finish. Low-profile locks and no hems or beads allow for a beautiful product that looks elegant in any interior.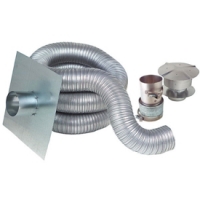 Aluminum Flex Chimney Liner
An aluminum flexible chimney liner is used for both single pipe (B-Vent) and double pipe (direct vent) gas inserts. The pipe comes by itself as well as in kits with plates to seal the chimney top and caps.